Hex bolts (six sided heads) are the industry standard for fasteners with forged heads. ASTM A307  grade A bolts, all SAE hex bolts, and several other common specifications require a standard (finished) hex head. For specifications such as A307 grade B, A325 and A490 that require a heavy hex pattern, refer to dimensional tolerances for heavy hex bolts or structural bolts.
Manufacturing
Portland Bolt manufactures lag screws from 1/2″ diameter through 1-1/2″ diameter in most ASTM, AASHTO, and SAE specifications. Special tooling can be created to produce nonstandard head dimensions or bolt heads with your company's name and/or logo.
One should consider longer than standard thread lengths for lag screws which are extremely long. Unless otherwise specified, Portland Bolt manufactures nonstandard lag screw with a thread length of one-half the bolt length plus 1/2″ regardless of the length of the bolt. Unless otherwise specified, nonstandard lag screws manufactured by Portland Bolt will possess a semi-cone point rather than a gimlet or cone point. A full point is unnecessary since a pilot hole nearly as large as the root diameter of the lag screw will need to be drilled prior to installation. Additionally, a gimlet point is designed for small diameter screws so they can be installed without a pilot hole. Lag screws in diameters listed in the above table do not require a gimlet point since too much torque would be required to install the large screws without drilling a pilot hole first. Without a pilot hole, the heads of the screws will often break before the lag is properly installed.
Stock
Diameters: 1/2″ – 3/4″
Lengths: 18″ maximum
Origin: Import
Finish: Black and hot-dip galvanized
Standard Thread Length
The minimum thread length shall be equal to one-half the nominal screw length plus 1/2″ or 6", whichever is less.
Note: Hex lag screws larger than 3/4″ in diameter and all square lag screws are rarely available in the marketplace as a stock item.
Hex Lag Dimensions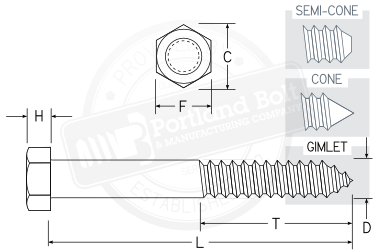 Bolt Diameter
D
F
H
Threads Per Inch
Thread Dimension
Body Diameter
Width Across Flats
Head Height
Pitch
TF
TD
TR
Max
Min
Flat At Root
Depth of Thread
Root Diameter
3/8
0.388
0.360
9/16
1/4
7
0.143
0.062
0.055
0.265
1/2
0.515
0.482
3/4
11/32
6
0.167
0.072
0.064
0.371
5/8
0.642
0.605
15/16
27/64
5
0.200
0.086
0.077
0.471
3/4
0.768
0.729
1-1/8
1/2
4-1/2
0.222
0.096
0.085
0.579
7/8
0.895
0.852
1-5/16
37/64
4
0.250
0.108
0.096
0.683
1
1.022
0.976
1-1/2
43/64
3-1/2
0.286
0.123
0.110
0.780
1-1/8
1.149
1.098
1-11/16
3/4
3-1/4
0.308
0.133
0.119
0.887
1-1/4
1.277
1.223
1-7/8
27/32
3-1/4
0.308
0.133
0.119
1.012
1-3/8
1.404
1.346
2-1/16
29/32
3
0.333
0.143
0.128
1.119
1-1/2
1.531
1.469
2-1/4
1
3
0.333
0.143
0.128
1.244

Dimensions per ASME B18.2.6 2003
Stock Lag Screws
Lag Screw Size
Hot Dip Galvanized Part#
3/8 x 2
11384
3/8 x 2-1/2
11386
3/8 x 3
11388
3/8 x 3-1/2
11390
3/8 x 4
11392
3/8 x 5
11396
3/8 x 6
11400
3/8 x 8
11408
1/2 x 3
11418
1/2 x 4
11422
1/2 x 5
11426
1/2 x 6
11430
1/2 x 7
11434
1/2 x 8
11438
1/2 x 10
11442
1/2 x 12
11446
5/8 x 3
11454
5/8 x 4
11458
5/8 x 6
11466
5/8 x 7
11470
5/8 x 8
11472
5/8 x 10
11476
5/8 x 12
11480
3/4 x 5
11498
3/4 x 6
11502
3/4 x 8
11510
3/4 x 10
11514
3/4 x 12
11518
3/4 x 14
11522
3/4 x 18
11530
*Many other sizes available upon request