ASTM FAQs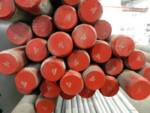 Does F1554 Tell Me the Configuration of the Bolt?
Calling out ASTM F1554 (grade 36, 55, or 105) indicates the grade of material, but the specification itself does not require a specific configuration and does not indicate whether or not the bolt is galvanized. F1554 is a fastener specification which covers steel anchor bolts intended for anchoring structural supports to concrete foundations. The specification provides... Read more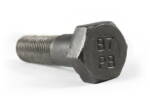 Is the thread length of A193 Grade B7 bolts the same as A325 bolts?
In short, no, the thread length of A193 B7 bolts is not the same as the thread length of A325 bolts. The F3125 Grade A325 specification covers heavy hex structural bolts which have standard fixed thread lengths shown in the table below. The thread lengths can be altered, but A325 bolts with nonstandard thread lengths must... Read more
Can I order 3/8" diameter F1554 anchor bolts?
No. In 2015, ASTM changed the diameter parameters from 1/4"- 4" to 1/2"- 4"; eliminating 1/4" and 3/8" diameters from the specification.  This was in part due to the lack of material availability that had the test reports or traceability in these smaller diameters that conformed to the F1554 requirements.  If your project requires F1554... Read more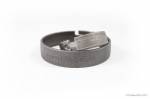 Are Split Rings Graded the Same as Shear Plates?
Unlike shear plates, split rings are not made to a particular specification. Shear plates are made to a dimensional specification, ASTM D5933 and are made from a malleable casting meeting the ASTM A47 Grade 32510 specification. This is a specification that covers ferritic malleable castings intended for general use. Other products which are made to... Read more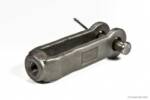 What grade are Portland Bolt's Clevises and Turnbuckles?
For most tie rod assemblies that Portland Bolt provides, the clevises would be forged per ASTM A668 Class A, while the turnbuckles would be forged per ASTM A668 Class C. ASTM A668 is a general forging specification. An additional ASTM specification F1145 also covers turnbuckles specifically. If higher strength clevises are required to develop the strength... Read more

What is a supplementary requirement in an ASTM grade?
Supplementary requirements are optional requirements within ASTM specifications that must be requested at the time of quotation or purchase to be included, otherwise the manufacturing company is not required to adhere to the supplementary requirements. ASTM specifications have varying amounts of supplementary requirements. Some specifications have as many as six or more supplementary requirements, while... Read more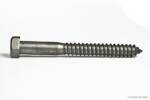 Can a lag screw be manufactured to ASTM F3125 Grade A325?
As the ASTM F3125 specification becomes more prevalent, the issue of configuration may be a source of confusion. The main reason is that in the past, ASTM A325 has been limited a heavy hex head structural bolt only, which implies a structural bolt thread length with Unified National Coarse thread. With the implementation of ASTM F3125, A325... Read more
Are bolts ordered under the ASTM A193 Grade B8/B8M Class 2 specification available above 1-1/2" in diameter?
The short answer is no. The A193 specification does not cover bolts larger than 1-1/2" in diameter for Class 2 materials.  However, the reasoning behind this answer requires further explanation. Class 2 materials get their strength through the process of strain hardening (also known as work hardening or cold working). This process causes the grain structure... Read more

Why are the heads of my A325 bolts marked with the letter "S"?
Under the new F3125 specification, which now governs A325 structural bolts, there is a supplementary requirement that allows A325 bolts to differ in head geometry and thread length (excluding fully threaded A325s) as required by the customer. When these alternate dimensions are required, the bolts shall be stamped "A325S", with the "S" indicating special. Under the... Read more
What is the difference between A194 grade 7 and grade 7L nuts?
A194 grade 7 nuts are commonly used nuts for both high temperature and low temperature applications, and is commonly paired with bolts made to either A193 or A320. When used in conjunction with A320 bolts in a low temperature application, or if specially requested, they are charpy tested to assure they will perform well in... Read more