Technical FAQs
Are die seams allowed on headed bolts?
There are several differences between bolts intended for use in construction and more precision fasteners, such those used in an OEM application. One difference for headed bolts is the process in which the head is formed on the bolt and the resulting appearance of the bolts. Larger, construction headed bolts are typically made by hot-forging... Read more
If my already installed anchor bolts got bent by accident, is it OK to bend them back?
The anchor rods in this photo were damaged because they were covered with snow and the equipment operator did not see them. Every situation is different, and we try to not make recommendations where bent anchors are concerned as we feel it is a question better answered by the project engineer, as he/she will be... Read more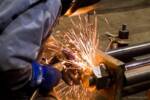 When is it acceptable to weld to bolts, and when it is prohibited?
Many grades of bolt gain their strength though a heat treating process, and the addition of heat during welding can adversely alter those strength properties. However, some lower strength grades are easily weldable when manufactured from weldable steel. In general, steel items which have been heat treated for strength should generally not be welded since... Read more
What is the difference between SS316/SS304 and SS316L/SS304L?
Stainless steel type 316 and type 304 are raw material grades for stainless steel. Stainless steel fasteners are sometimes referred to and ordered as their raw material grades (such as SS 316 and SS304) and sometimes referred to and ordered as their ASTM specification. The common ASTM specifications that cover stainless steel bolts are A193,... Read more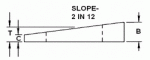 How do I calculate the slope in degrees for a beveled washer?
The slope of a beveled washer or a given segment represents how much the elevation changes over a certain distance. The higher the slope, the more steep the incline or decline. Slope is measured in degrees, ratios and grades. To find the slope in degrees, you need to make use of trigonometry ratios or more... Read more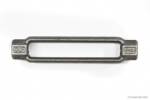 When designing vertical rod bracing system I would like to use F1554 grade 55 rod to achieve smaller diameters. But if I use a turnbuckle I am limited to the safe working load of that turnbuckle. Is there a higher capacity turnbuckle available?
You are correct that your capacity would be limited by the safe working load of the turnbuckle, but it would be limited to that regardless of the grade of steel used for the bracing rod. Let's assume you are using mild steel, A307/A36 rods. The minimum yield strength of that material is 36,000 psi. Using... Read more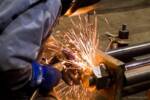 Can welding be performed on high strength anchor bolts and fasteners?
The short answer is that in most cases, welding high strength bolts is not allowed. In the fastener industry, the term "high strength" typically refers to any medium carbon or alloy material which undergoes a heat treating process to develop the strength properties necessary to meet the requirements of a given specification. These ASTM specifications... Read more

What is the difference between a bolt with rolled threads and one with cut threads and does a fastener with a reduced body and rolled threads meet ASTM specifications?
Threads of a mechanical fastener, regardless of whether it is a headed bolt, rod, or bent bolt, can be produced by either cutting or rolling. The differences, misconceptions, advantages, and disadvantages of each method are described below. Rolled Threads Roll threading is a process by which steel is extruded to form the threaded portion of... Read more
Are SAE Grade 2, 5, and 8 bolts available in diameters over 1½"?
No, the SAE J429 specification only covers bolts up to and including 1½" diameter. SAE J429 (1999), the specification that includes Grade 2, 5, and 8 fasteners, states, "This SAE standard covers the mechanical and material requirements for inch-series steel bolts, screws, studs, SEMS, and U-bolts used for automotive and related industries in sizes to... Read more
How do I determine the yield and tensile strength of a specific diameter of bolt?
In most cases, the strength of a given material used to make a fastener has strength requirements or parameters described as pounds per square inch (psi) or thousands of pounds per square inch (ksi). This is helpful when analyzing what grade of material should be used for a given application, but this doesn't tell us... Read more