Tag Archives: roll thread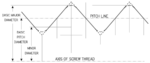 What is the meaning of thread pitch, major diameter, minor diameter, crest, root, flanks, angle, and run-out in the context of external thread?
Portland Bolt forms threads using two methods: cut threading and roll threading. Cut threading is a process that removes steel to form the threads. The roll threading method we utilize starts with reduced body pitch diameter steel. To make a one inch bolt we would use .912 inch round bar. This steel is forced between... Read more
Are roll threaded anchor bolts with a reduced body allowed on school projects in California?
Contrary to popular belief, roll threaded anchor bolts are acceptable for schools in California when connecting steel to concrete. Portland bolt spent three years working with the California Department of General Services Division of the State Architect to dispel the rumor that only full body cut threaded bolts could be used. The link at the... Read more