Category Archives: Bolt Industry
Can plastic anchor sleeves be used with metric diameter anchor bolts or less-common diameters such as 1-1/8" or 1-3/8"?
The typical fix to this issue is to buy a larger sleeve for the next imperial (inch) diameter up and duct tape the sleeve to the rod to fix it in place. A less-frequently used alternative is to buy a smaller sleeve and cut the sleeve to fit the anchor bolt. According to our customers... Read more
My drawing is showing a plastic anchor sleeve that is much longer than the standard sizes that you show on your website.  Is it possible to get a custom plastic sleeve that is made per my job's requirements?
Not really. Plastic anchor sleeves are mass produced in standard sizes and are not feasible to be custom made with custom diameters or lengths. The tooling/molds to create a custom size are expensive and have long lead times to such a degree that the manufacturers of the sleeves are unwilling to pursue custom tooling. If a... Read more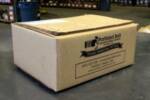 What does the acronym "FOB" stand for and how does it affect your order?
According to the Incoterms 2010 standard which is published by the International Chamber of Commerce, the acronym "FOB" stands for "free on board." In the US, this acronym "FOB" is commonly used when shipping goods to acknowledge who is responsible for the costs associated with loading, transporting and/or the point at which the ownership of... Read more
Is there a "structural grade" for fasteners?
Portland Bolt is often asked which grade should be used in a structural application. More specifically, when asked what grade is required for a particular fastener that we are receiving an inquiry on, companies will often reply "it's a structural grade" or "it's for a structural application". This usually is the result of a fastener being specified... Read more
Are there any other "high strength" bolts other an A325, A449 or A490? Would SAE Grade 5 and 8 qualify?
The term "high strength" is a somewhat ambiguous fastener term. Most people in the industry would interpret the phrase "high strength" to refer to any bolt that has been quenched and tempered (heat treated) to develop its strength. Additionally, the ASTM specification F1554 Grade 55 is commonly referred to as being manufactured from a "high... Read more
What is AASHTO an Acronym For?
AASHTO is the American Association of State Highway and Transportation Officials. This organization sets standards for highway design and construction. As it relates to bolts, often times, bolts and other materials will be shown on plans for state transportation projects as having an AASHTO designation. These AASHTO numbers typically will correlate directly to a particular... Read more
Can I order A490 Heavy Hex Structural Bolts larger than 1-1/2" diameter?
According to ASTM A490-11, the answer is no. The A490 specification only covers diameters from 1/2″ to 1-1/2″, inclusive. An A490 bolt cannot be made above 1-1/2″ diameter; ASTM does not allow it. Since there are no chemical requirements, hardness requirements, or strength requirements for A490 fasteners above 1-1/2″ diameter, no manufacturer would be able... Read more
What is the Unified National Coarse thread pitch for a 1-5/8" diameter bolt?
Currently, the American Society of Mechanical Engineers (ASME) specification B 1.1 does not define a "standard" Unified National Coarse (UNC) thread pitch for 1-5/8" diameter bolts (or 1-7/8" for that matter). The "pseudo standard" coarse thread that is often used in the industry is 5-1/2 threads per inch. The 8UN (eight threads per inch) series... Read more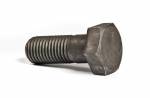 Are black bolts painted black?
Most likely no. Our "black" bolts are unfinished or bare steel. The term "black bolt" is an industry term for plain finish or no finish bolts. These bolts offer no corrosion resistance and will rust over time. If you are looking for a decorative coating that is actually black, you will want to specify that... Read more
What information do I need to provide when ordering tie rods or requesting a quotation to ensure that I receive the correct product?
Tie rod assemblies can be very complicated and confusing to someone who does not deal with them on a routine basis. If you are not experienced in dealing with tie rod assemblies, you may not understand all of the necessary information that is required to ensure that you receive the proper components for the tie... Read more
What information do I need to provide when ordering bolts or requesting a quotation to ensure that I receive the correct product?
Have you ever gone to order bolts and haven't known what information you needed to provide to ensure you receive the correct fasteners? Relax, because you're not alone. If you don't deal with fasteners daily, you may not understand all of the necessary information you need to provide to ensure that you receive the correct... Read more
What is the difference between a bolt manufacturer and a fastener distributor?
In the fastener industry, there are two different types of fastener companies… distributors and manufacturers. The following FAQ will address the differences between fastener distributors and bolt manufacturers and provide some insight as to when to consider utilizing each type of company for your fastener purchases. What is a fastener distributor? Fastener distributors serve a... Read more
What specification covers dimensional requirements for roll threaded hex bolts and square head bolts?
ANSI/ASME B18.2.1 is the dimensional specification that covers hex bolts and square head bolts. Note 14 of the specification addresses reduced body material that is used in the roll threading process. "14. Reduced Diameter Body. Bolts may be obtained in "reduced diameter body." Where "reduced diameter body" is specified, the body diameter may be reduced... Read more
What is a "Domestic Requirement" and how do I know if it applies to my project?
There are a variety of different types of construction projects that require domestically manufactured (U.S.-made) products, including bolts. There are three main pieces of legislation that mandate "domestic" products. The American Recovery and Reinvestment Act of 2009 The American Recovery and Reinvestment Act of 2009, also known as "ARRA" or "Stimulus Plan," was enacted into... Read more
What is Product Liability Insurance? Which companies should have it?
Truly an asset you may not always like paying for but one you surely cannot live without. All manufacturers, wholesalers, distributors, in fact all those involved in the "stream of commerce" should have adequate product liability insurance. Product liability insurance is an insurance policy that would provide protection against liabilities, within the policy limits, for... Read more
How much thread engagement is recommended, i.e. how many threads should extend beyond the nut?
This is a difficult question to answer. Depending on your application, the answer could be anywhere from 1/2 engagement, up to having two full threads extend beyond the nut. Look at these conflicting answers found in four separate technical publications. Federal Highway Administration, "Guidelines for the Installation, Inspection, Maintenance and Repair of Structural Supports for... Read more
What are the differences between a hex cap screw and a hex bolt?
These terms are often incorrectly used interchangeably. The most basic difference between a cap screw and a bolt is the way in which these fasteners are installed. Technically, a bolt is installed by turning a nut to tighten the fastener, while a cap screw in installed by turning the head of the bolt to assemble... Read more
What are the purposes for the different components in malleable iron washers (MIW)
For many years a malleable iron washer has been a common component in heavy timber and marine construction. With a large bearing surface and thick cast design they help prevent the bolt head or nut from pulling through wood connections. There are two common types of MIW. One style of malleable washer is produced in... Read more
According to section 9 of the ASME B18.2.6 specification that covers fasteners for use in structural applications, an A325 structural bolt can actually be produced .12" to .25" less than the published length and still meet the specification.
According to section 9 of the ASME B18.2.6 specification, which covers dimensional tolerances for hex bolts, A325 and A490 structural bolts can actually be produced between .12 to .25 of inch less than the published length and still meet the specification. This small difference isn't much, but mass bolt producers save a significant amount of... Read more