Can an A563 Grade DH high strength heavy hex nut be substituted for a lower strength A563 Grade A hex nut?
Yes. According to ASTM A563, the specification covering carbon and alloy steel nuts, the supplier may supply any higher strength nut at anytime, but the supplier must give notice to the purchaser that the substitution is being made. The supplier cannot supply a nut that is prohibited by the inquiry and resulting purchase order. "1.2... Read more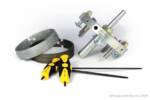 Can I install a Split Ring without using a Grooving Tool or a Shear Plate without using the Dapping Tool?
In theory, one could potentially carve out a groove that would be sufficient for fitting a shear plate or split ring. However the labor and ability to carve an exact fitting grove would be time consuming as well as tedious. All references to the proper installation of shear plates and split rings, such as the... Read more
My plans call for an A307 grade C anchor bolt and my supplier is offering F1554 grade 55 anchor bolts as a substitution. Is this acceptable?
Theoretically, this substitution makes sense. However, one should always check with the project engineer before making any alterations to the grade or configuration of product that has been specified for the structure. Please note that for liability reasons, Portland Bolt is not recommending that this substitution be made without appropriate approval. The A307 grade A... Read more
My company is looking to purchase A325SC, A325N, and A325X heavy hex structural bolts. What is the difference between these three?
There is no difference between these bolts. The "X", "SC", and "N" simply identify the type of connection the bolts are used in. "X" and "N" are bearing type connections, where the bolts are being used in shear. "X" means these particular A325 heavy hex structural bolts will be used in a bearing type connection... Read more
What is an A325T bolt?
An A325T bolt is a fully threaded version of an A325 heavy hex structural bolt. The A325 specification is very specific when it addresses thread lengths. Standard A325 bolts have very short thread lengths due to their application as a bolt intended for use in structural steel connections since often it is undesirable for threads... Read more
What is an "A193 Class 2" heavy hex bolt and how do I order them?
ASTM A193 is a specification for alloy and stainless steel fasteners for high temperature service, high pressure service, or both. Within the A193 specification there are multiple grades of bolts made from either alloy or stainless steel. The stainless steel grades, such as B8 and B8M, can be ordered as either Class 1 (carbide solution... Read more
Is it possible to manufacture an A325 or A490 structural bolt with a non-standard thread length?
Yes. At Portland Bolt we are frequently asked this question. In order to better understand the answer, some background information on these two specifications is necessary. Both the A325 and the A490 specifications cover high strength, heavy hex, structural bolts from ½" diameter through 1½" in diameter. Both ASTM A325 and A490 specify shorter thread... Read more
What are the main difference between ASTM 307 GR.B, ASTM A449, and SAE Grade 5 bolts?
There are two specifying bodies when it comes to fasteners. ASTM (American Society for Testing and Materials) covers primarily bolts and fasteners for construction applications. SAE (Society of Automotive Engineers) covers fasteners for automotive, machinery, and OEM applications. ASTM A307 grade B is made from a low carbon steel and is a relatively low strength... Read more
I have two items that use 1" bolts, one is ASTM A325 and the other is ASTM A449, I would like to just use one. Which is the one that meets or exceeds the other?
These bolts are identical with regard to strength and chemistry. There are very minor differences in the hardness requirements, but the proof load, tensile, and yield strength requirements are the same. From a manufacturing standpoint, we make these bolts using the same raw material and the same heat treating and production methods. Our strength by... Read more
Can I use ASTM 108 Round Bar, a CF-1018 round bar, for F1554 Grade 55?
The problem with ASTM A108, 1018CF is that there are no mechanical requirements and typically the test reports that accompany this steel reflect the chemistry only and not the strength of the steel. Test reports will need to accompany this material that reflect all four of the values listed below, and these values will need... Read more
What happened to ASTM A307 Grade C?
One change with regard to specifications that will have a significant impact on the construction fastener industry is the August 2007 elimination of the grade C designation within the ASTM A307 specification. ASTM A307 is the standard specification for low carbon steel construction fasteners. Until recently, A307 had three grades A, B, and C. Grade... Read more
What are the differences in strength and application between SAE Grade 8 and ASTM A-490?
In some respects SAE J429 grade 8 bolts and ASTM A490 bolts are similar, and in other respects they are different. The first thing to address is the fact that these specifications are covered by different organizations. SAE (Society of Automotive Engineers) covers bolts for automotive, equipment, and OEM applications, whereas ASTM (American Society for... Read more
What do the letters at the beginning of an ASTM standard signify?
Every ASTM standard is identified by a unique designation. It includes a capital letter (A – H), followed by a serial number ranging from one to four digits, a dash, and finally the year of issue. For example, a common bolt specification is A449 – 07a, although when specified the standard's year designation is usually... Read more
Is it appropriate to spec ASTM F1554 in place of A36 tie rods for higher strength applications? What are the lengths these rods come in, the availability of each grade, and cost differences?
Most ASTM standards address the recommended application of the fastener. There are often two or three different ASTM specifications with similar chemical and mechanical properties, but with differing applications. ASTM F1554 is a specification that is designed for anchor bolts embedded in concrete. Since your application is for tie rod assemblies, it would appear that... Read more
What bolts are available in ASTM A193-B7 and what is the appropriate thread pitch to specify?
"My plant uses hex head cap screws, ASTM A193-B7 as standard. We typically stock the constant thread series 8 TPI fasteners above 1 inch diameter. However, many tapped items like expansion joints come with UNC thread counts, like 7 threads per inch (TPI) for 1-1/4″ diameter bolts. This causes a problem sometimes when fasteners don't... Read more
What are the differences between A36 and A307?
ASTM A36 is a steel (raw material) specification, while ASTM A307 is a fastener specification. In other words, once you take A36 round bar and cut it, thread it, bend it, forge a head on it, or otherwise process it and turn it into a fastener, it becomes an A307 bolt. Often times, ASTM A307... Read more
Does Portland Bolt manufacture 1-3/4" diameter A325 heavy hex bolts?
No. As a matter of fact, nobody does. The ASTM F3125 grade A325 specification clearly denotes the diameter range of this grade of fastener to be ½" through 1-1/2" inclusive. Therefore, an A325 bolt larger than 1-1/2" diameter simply does not exist. It cannot be manufactured because there are no dimensional or strength requirements for... Read more
Does imported stock all thread rod meet ASTM A307 grade C?
Frequently, imported mild steel all thread rod will not meet ASTM A307 grade C. The three different grades of the A307 specification identify their intended application where grade C is embedded in concrete and used for anchoring purposes, grade B is used in cast iron flange connections, and grade A covers general applications. Normally, imported... Read more