Category Archives: Application
I am an engineer and I am calculating the strength of an anchor bolt for a job that I am designing.  I want to use plastic sleeves on many of the anchor bolts on my project, but I don't know how these sleeves affect the pull out strength of the anchor bolts.  Is there any information on the subject?
Portland Bolt is unaware of any information that addresses this question. Plastic sleeves seem to be a "gray area" due to the fact that no specifications cover them or design guides mention them. AISC Design Guide 1, 2nd Edition, Base Plate And Anchor Rod Design, Page 49, does address steel sleeves and has information on... Read more
What grade of nuts and washers are compatible with ASTM A320 Grade L7 bolts and rods?
ASTM A320-L7 is a specification covering bolts, studs, and screws intended for low temperature service. Portland Bolt regularly supplies both plain finish and hot-dip galvanized A320-L7 fasteners to numerous customers in Canada and Alaska. Recently in our Portland Bolt Live Chat, an engineer asked this question as he needed to know what grade of nuts and... Read more
Do A325X bolts have a special marking on the head that would differentiate them from a standard A325?
The "X" designates the connection type (bearing-type connection with threads excluded from the shear plane) and has nothing to do with the bolt itself. Therefore, an A325 structural bolt used in this type of connection will have no different markings than an A325 bolt used in a different type of connection (N or SC). All A325... Read more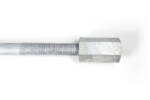 How much coupling nut thread engagement is required to achieve the strength of the rod?
Unfortunately there appears to be no documented information on how much rod engagement into a coupling nut is required to achieve the strength of the rod or bolt being used with it. Coupling nuts are manufactured to the same ASTM specifications as regular hex nuts, and ASME B18.2.2 provides dimensional specifications for coupling nuts.  Standard coupling... Read more
What do I do if I poured my anchor bolts too low or too high?
The answer can be found in AISC Design Guide 1,Section 2.11.3: "Anchor rod projections that are too short or too long must be investigated to determine if the correct anchor rods were installed. If the anchor rod is too short, the anchor rod may be projecting below the foundation. If the rod projection is too long,... Read more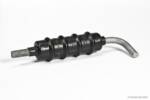 What size anchor bolt sleeve do I use to fit a 1-1/8" diameter anchor bolt?
This question is often brought to Portland Bolt's attention by customers wondering how to install an anchor bolt sleeve with a 1-1/8" diameter rod.  This issue arises due to the fact that anchor bolt sleeves are not manufactured in 1-1/8" diameter. We knew of two different solutions, but were left wondering which was the preferred... Read more
Are torque specifications or values available for lag screws?
There are no documented torque values for lag bolts or screws. The reason for this lies in the definition of torque when discussing threaded fasteners. To put it simply, torque is a measure of the twisting force required to spin a nut up along the threads of a bolt. Lag screw threads are driven into wood, and therefore,... Read more
What is the difference between the two types of anchor sleeves that Portland Bolt stocks?
Portland Bolt inventories two different lines of anchor bolt sleeves, Wilson and Contec. There are many similarities between the two products, with two notable differences. The two main differences between these two types of anchor bolt sleeves are in sizing and coloring. Wilson Sleeves Contec Sleeves Composition and Materials Both brands are manufactured of high... Read more
How do I determine the proper wrench opening or socket size to tighten a specific size of bolt?
Socket sizes and wrench openings for tightening nuts and bolts are determined by the dimension across the flats of either the nut or bolt head. According to the Machinery's Handbook, 26th edition, "Wrenches are marked with the 'nominal size of wrench' which is equal to the basic or maximum width across flats of the corresponding... Read more
Is it acceptable practice to alter a bolt's length in the field if it is too long?
Altering a bolt's length or configuration in the field is acceptable as long as it does not change the length originally specified by the designer or engineer. If a bolt is longer than what was originally needed, the bolt can be cut down in the field. How the bolt is cut is important to consider.... Read more