Bolt Industry FAQs
My drawing is showing a plastic anchor sleeve that is much longer than the standard sizes that you show on your website.  Is it possible to get a custom plastic sleeve that is made per my job's requirements?
Not really. Plastic anchor sleeves are mass produced in standard sizes and are not feasible to be custom made with custom diameters or lengths. The tooling/molds to create a custom size are expensive and have long lead times to such a degree that the manufacturers of the sleeves are unwilling to pursue custom tooling. If a... Read more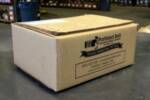 What does the acronym "FOB" stand for and how does it affect your order?
According to the Incoterms 2010 standard which is published by the International Chamber of Commerce, the acronym "FOB" stands for "free on board." In the US, this acronym "FOB" is commonly used when shipping goods to acknowledge who is responsible for the costs associated with loading, transporting and/or the point at which the ownership of... Read more
Is there a "structural grade" for fasteners?
Portland Bolt is often asked which grade should be used in a structural application. More specifically, when asked what grade is required for a particular fastener that we are receiving an inquiry on, companies will often reply "it's a structural grade" or "it's for a structural application". This usually is the result of a fastener being specified... Read more
Are there any other "high strength" bolts other an A325, A449 or A490? Would SAE Grade 5 and 8 qualify?
The term "high strength" is a somewhat ambiguous fastener term. Most people in the industry would interpret the phrase "high strength" to refer to any bolt that has been quenched and tempered (heat treated) to develop its strength. Additionally, the ASTM specification F1554 Grade 55 is commonly referred to as being manufactured from a "high... Read more
What is AASHTO an Acronym For?
AASHTO is the American Association of State Highway and Transportation Officials. This organization sets standards for highway design and construction. As it relates to bolts, often times, bolts and other materials will be shown on plans for state transportation projects as having an AASHTO designation. These AASHTO numbers typically will correlate directly to a particular... Read more
Can I order A490 Heavy Hex Structural Bolts larger than 1-1/2" diameter?
According to ASTM A490-11, the answer is no. The A490 specification only covers diameters from 1/2″ to 1-1/2″, inclusive. An A490 bolt cannot be made above 1-1/2″ diameter; ASTM does not allow it. Since there are no chemical requirements, hardness requirements, or strength requirements for A490 fasteners above 1-1/2″ diameter, no manufacturer would be able... Read more
What is the Unified National Coarse thread pitch for a 1-5/8" diameter bolt?
Currently, the American Society of Mechanical Engineers (ASME) specification B 1.1 does not define a "standard" Unified National Coarse (UNC) thread pitch for 1-5/8" diameter bolts (or 1-7/8" for that matter). The "pseudo standard" coarse thread that is often used in the industry is 5-1/2 threads per inch. The 8UN (eight threads per inch) series... Read more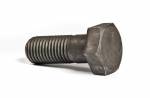 Are black bolts painted black?
Most likely no. Our "black" bolts are unfinished or bare steel. The term "black bolt" is an industry term for plain finish or no finish bolts. These bolts offer no corrosion resistance and will rust over time. If you are looking for a decorative coating that is actually black, you will want to specify that... Read more
What information do I need to provide when ordering tie rods or requesting a quotation to ensure that I receive the correct product?
Tie rod assemblies can be very complicated and confusing to someone who does not deal with them on a routine basis. If you are not experienced in dealing with tie rod assemblies, you may not understand all of the necessary information that is required to ensure that you receive the proper components for the tie... Read more
What information do I need to provide when ordering bolts or requesting a quotation to ensure that I receive the correct product?
Have you ever gone to order bolts and haven't known what information you needed to provide to ensure you receive the correct fasteners? Relax, because you're not alone. If you don't deal with fasteners on a daily basis, you may not understand all of the necessary information you need to provide in order to ensure... Read more