Bolt Industry FAQs
What are the strength and yield values for stainless steel bolts?
Typically when bolts are ordered, they are called out by a specific ASTM or SAE grade. Stainless steel bolts are a bit different though, as they are commercially available and regularly ordered simply by the material itself, most commonly 316 or 304 stainless steel. Unlike bolts that fall under ASTM specifications, there are no specific... Read more
What is the RCSC?
RCSC is the Research Council on Structural Connections. It is a non-profit, volunteer organization, comprised of over 85 leading experts in the fields of structural steel connection design, engineering, fabrication, erection and bolting. Its goal is to support research and gain knowledge to publish standards in structural steel connections.
Are heavy square head bolts and heavy square nuts available?
According to ASME, a global standards organization which provides manufacturers with guidelines and tolerances for producing parts, there are no listed dimensions to manufacture heavy square head bolts. However, ASME does provide dimensions for heavy square nuts. ASME B18.2.1 This standard covers the dimensional requirements for nine product types of inch series bolts and screws... Read more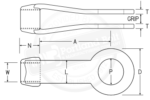 Why are clevises called out by a number?
Clevises are a component of tie rod assemblies that rods thread into. Unlike most other female threaded components such as nuts or turnbuckles, calling out a clevis size by the diameter of rod being threaded into it is not the correct way to reference it. Clevises are called out by a number, ranging from a... Read more
Does the length measurement of a bolt include the head?
In most cases, when specifying the length of a headed bolt, the thickness of the bolt head is not included. For instance, if you were to order a ¾" x 24" hex head bolt, the bolt would measure 24" from under the head. One exception to this method of measurement is countersunk bolts. When specifying... Read more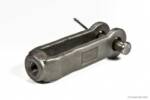 Are high strength clevises and turnbuckles available?
High strength clevises can be provided in instances where smaller clevises are needed while keeping a higher safe working load. High strength clevises are also used to develop the full capacity of high strength threaded rods. Since high strength clevises are not readily available in the marketplace, these items and can add significate lead time... Read more
What is the RUS or the Rural Utilities Service?
The United States Rural Utilities Service (RUS) is in charge of administering programs that provide rural communities with infrastructure or infrastructure improvements. The programs administered by the RUS include water and waste treatment, electric power, and telecommunications services. The RUS is a part of the USDA Rural Development Agency of the United States Department of Agriculture. The RUS provides assistance... Read more
Are twenty foot lengths (20') of all thread rod available?
20' lengths of all thread rod are not commercially available off the shelf and would have to be custom made to order. In most instances, all thread rod is cut to length and it is more economical to use more sticks of standard 12 foot and shorter sizes. If a 20 foot connection is needed,... Read more
Are ½" A325 Structural Bolts available in 1" length?
A325 structural bolts start at ½" diameter with the shortest length available being 1-1/4". As far as the ASTM specification is concerned, there is not an official documented reason as to why they are not readily available; however when asked to provide 1" length, we have found that they are not easily obtained in the marketplace.... Read more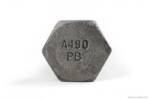 Why can't I find 1/2" diameter A490 bolts?
ASTM F3125 Grades A490 and A325 structural bolts are mass-produced through 1-1/4" diameter. However, there is an exception for 1/2" A490 bolts. Compared to other diameters, these are not commonly used. Therefore, 1/2" diameter A490 bolts are not mass-produced and are not readily available in the marketplace. There are a couple of ways to work around this. First,... Read more